Zoom invitation:  https://zoom.us/j/269297536
Not on the Thursday Bible study list? Email slc@silverdalelutheran.org and let Bruce know and he will add you.
Watch the E-News weekly for the Thursday Bible Study Topics!
---
PB Thursday Bible Study – Summer in the Psalms (and maybe the fall too!)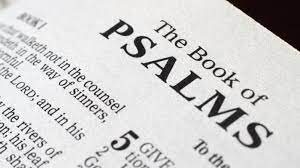 The Psalter-the book of Psalms.  It is prayer and hymnbook of the Bible.  These hymns and poems have sustained God's people from the earliest years up to today.  How do they help us?  How do we interpret them?  When and how do we see Christ in the Psalms and view them in light of the New Covenant?  We will unpack many Psalms throughout the summer and learn in the process how to interpret others.  We'll get help from modern scholars and from greats like Martin Luther and CS Lewis.
Haven't participated in Pastor Bill's Thursday Bible study before?  Now is the time to join in.  The class is held simultaneously in-person (fellowship Hall) and on Zoom.  The class is also Livestreamed on Facebook.
Our recent poll on the Hybrid Church revealed that 31% of SLC members read the Bible less than once a month or never and 55% of us only read it once a month or less!  This Bible study is a great opportunity to newly engage with God's Word and receive strength for your journey.  PB never gives tests or puts you on the spot.  Give it a try! Our Summer in the Psalms starts the first Thursday in June.
June Schedule:
June 3:   Psalms 46 & 130 – "the Bottom line"
June 10:  Psalm 8 – "Knowing our Place"
June 17: "Who Knows You Baby" – Guest instructor Pastoral Care Assistant Kim Grasmick
June 24: Psalm 49, 106, & 30 – "Death in the Psalter"  Guest instructor Pastoral Care Assistant Kim Grasmick
QR Code - Take this post Mobile!
Use this unique QR (Quick Response) code with your smart device. The code will save the url of this webpage to the device for mobile sharing and storage.