Kindergarten through 5th Grade
Sunday School – Sunday School is a ministry that seeks to provide rich learning opportunities in a safe, welcoming and grace-oriented environment for all youth -members and friends alike.  Our curriculum centers on basic Bible stories that lift up the unconditional love of God in Jesus Christ and our call to discipleship.
9:45 am Sunday School for all ages!
pre-k • elementary • middle school • high school
Register your child/youth for fall programming: https://bit.ly/SLCCYFREG
Vacation Bible School – Vacation Bible School is designed for children ages 4 years through 5th grade.
6th through 12th Grade
Middle and High School Youth gather each Wednesday from 6-8pm for dinner, games, and large and small groups that connect us to God and to one another and our community.  Our mission is to connect to Christ – more deeply in our faith and more widely to our community.  Groups meet in the Gathering Place from September to June, and at Olympic Lutherhaven Camp on Wildcat Lake from July to August.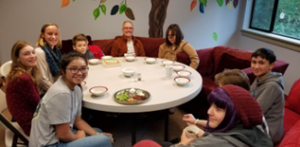 Sunday Gatherings – We offer middle Sunday gatherings for youth in 6-8th grade, and SLY Sundays for our high school youth, both in the Gathering Place, from 9:45-10:45 am Sunday mornings during the school year.  Bring your Bibles for a deeper connection to God's word and one another, with multiple opportunities to serve throughout the year.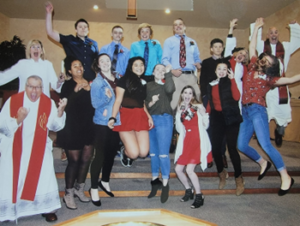 Confirmation  – Jump into an adult faith.  Our focused gatherings start every January for students 9th grade and older who are ready to connect more deeply to Christ and more widely to their community.  Contact Pastor Jonathan at jsansgaard@gmail.com for more info.