Pastor Bill Crabtree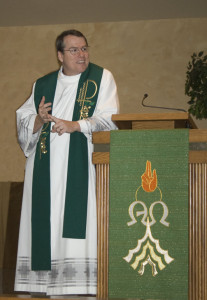 Pastor Bill Crabtree came to Silverdale Lutheran Church in June of 2007.  Prior to his Call to Silverdale, he was lead Pastor at Emanuel Lutheran Church in Lodi, California. He grew up in Phoenix, Arizona and was a member of Christ Church Lutheran all of his childhood.  He attended college at California Lutheran University where he majored in Psychology.  After college he attended Pacific Lutheran Theological Seminary in Berkeley California where he received his Masters of Divinity in 1989.  He has been in parish ministry since then.
Pastor Bill is married to his college sweetheart and they have two daughters.
"I pray that through my ministry at Silverdale Lutheran Church many will come to love Jesus or have their love for him enriched. This is an awesome congregation doing amazing things for God and I hope and pray my leadership will strengthen this dynamic and powerful church.  I would invite all who do not have a Church home to come and hear the good news of God's love and become a part of Jesus' life here at Silverdale Lutheran Church." –Pastor Bill Crabtree 
---
Pastor Paula Burchill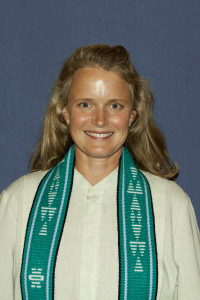 Pastor Paula Lund Burchill came to serve part-time at SLC in 2011 from being a stay-at-home-mom.  Prior to that, she was associate pastor at Bethany Lutheran Church on Bainbridge Island from 1998 to 2005.  She grew up in Williston, North Dakota, where she was baptized, confirmed, married and ordained at First Lutheran Church.  She graduated from Concordia College in Moorhead, Minnesota and Luther Seminary in St. Paul, Minnesota.  Pastor Paula's parents weren't that surprised when she became a pastor as she used to "baptize" her dolls and play "communion" with Necco wafers.  Pastor Paula and her husband Corey and their three children love to camp, play games and watch movies.
"SLC is quite an amazing place—the people here love to worship, sing, learn and serve those in need.  I would have to say my favorite thing about being a pastor is getting to share both the joy and the struggle it is to be one of Jesus' disciples in today's world.  God has written and is still writing the best story the world has ever known and he invites each one of us to be a part of that story.  I hope you will join us to hear about your part in the story." –Pastor Paula Burchill
---
Pastor Jonathan Sansgaard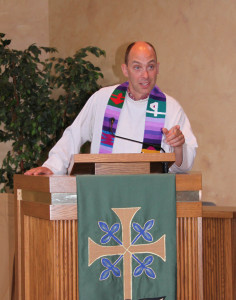 Pastor Jonathan Sansgaard came to SLC from Hope Lutheran Church in South Tacoma, where he was the solo pastor.  He grew up on a farm in Decorah, Iowa, where his father was pastor of a rural congregation (Washington Prairie Lutheran) and his mother was a preschool teacher.
Pastor Jonathan attended Pacific Lutheran University in Tacoma, Washington.  He worked for Head Start Preschool and Boeing for several years, and then attended Wartburg Seminary in Dubuque, Iowa from 1999-2003.  He served Hope Lutheran and urban South Tacoma for 5 years before coming to SLC.
Pastor Jonathan is married and they have two children.
"I am thrilled to be here and focused on what God is doing in youth and family ministry.  There is great opportunity at SLC to pass on a rich history of faith while being open to where the Holy Spirit is moving the church in the future.  This is an exciting time of seeking and wondering, of challenge and opportunity, of renewal and rebirth.  I look forward to being in meaningful relationship with youth, their families, and the larger body of Christ as we connect on this journey of faith." –Pastor Jonathan Sansgaard