Pastor Bill Crabtree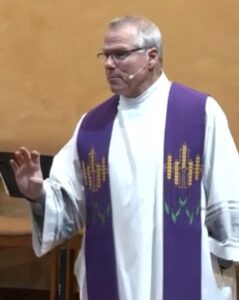 Pastor Bill Crabtree came to Silverdale Lutheran Church in June of 2007 and has served as lead pastor now for over 13 years.  Prior to his Call to Silverdale, he was lead Pastor at Emanuel Lutheran Church in Lodi, California. He grew up in Phoenix, Arizona and was a member of Christ Church Lutheran all of his childhood.  He attended college at California Lutheran University where he majored in Psychology.  After college he attended Pacific Lutheran Theological Seminary in Berkeley California where he received his Masters of Divinity in 1989.
Pastor Bill is married to Sandy Gessner-Crabtree and they have two daughters.
"It is a great privilege to lead in this vital and faithful Congregation.  Silverdale Lutheran is an amazing congregation and has a great future.  Our mission is to Connect more to Christ through the preaching and teaching of God's Word and love and serve our community of Kitsap and the world.  My passion is teaching and preaching the Word and loving God's people.  We have expanded our staff and have sought to continue building on the solid foundation laid by so many people of SLC in the past. If you are looking for a church that preaches the Gospel and develops your discipleship, SLC is the place for you!" – Pastor Bill
Pastor Jonathan Sansgaard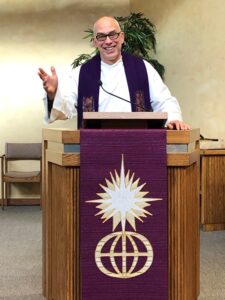 Pastor Jonathan Sansgaard has been serving at Silverdale Lutheran since 2008.  He grew up on a farm near Decorah, Iowa, where his father was pastor of a rural congregation (Washington Prairie Lutheran) and his mother was a preschool teacher.  Growing up, he enjoyed all kinds of sports and watching every single John Hughes movie ever made.
Pastor Jonathan attended Pacific Lutheran University in Tacoma, Washington, where he met his wife, Karen.  He worked for Head Start Preschool and Boeing for several years, and then attended Wartburg Seminary in Dubuque, Iowa from 1999-2003.  He served as a pastor at Hope Lutheran, and in urban South Tacoma for 5 years before coming to SLC.  His favorite things to do at SLC are taking summer trips with youth, sharing stories across generations, and choosing just the right wig for skits.
Pastor Jonathan and Karen have two children, Jadon and Zoe. They enjoy raising chickens, getting outside for bike rides and hikes, and generally enjoying the beauty of God's creation.
"It has been such a joy to serve in this congregation and Kitsap Community since  the summer of 2008, and it continues to be a privilege to walk with the families, youth, and young adults of this community.  Our stories are wrapped up in God's story of redemption in Jesus Christ, giving us hope, purpose, and life.  I pray you will join in this wonderful community, blessing us with your story and connecting it to God's big story." –Pastor Jonathan Sansgaard