CONGREGATION PRESIDENT – Bradley Posadas
As a Christian, our Lord has truly blessed my life to be a loving husband, dad, grandparent, engineer, combat veteran, Naval officer, public servant, volunteer and a citizen of the greatest country in the world.  I'm so humbly honored and blessed to be your Congregation President for this coming year.  I am looking forward to working with the church staff, Trustees and Council members to continue our journey with Christ in meeting our needs for our caring congregation and mission field.
I married into this wonderful church family when I met Ellen in 1992, who has been a member of SLC since 1977.  Altogether, we've raised five children and later have been blessed with having six grandchildren.  I enjoy traveling, motorcycle rides, golf, dance, skiing and cooking.  I do volunteer work with the Kitsap County Sheriff's Office, as well.
Enjoy your life our Lord has given you and be good to your loved ones and friends!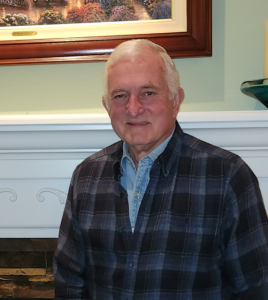 VICE PRESIDENT/HEAD OF PERSONNEL – Scott Slocum
I was born into a Navy family with a brother and two sisters. The four of us were all baptized at the same time in a Methodist Church in the early 1950's.  One month before graduating from Ohio State University and being commissioned as a line officer in the U.S. Navy, my father retired from the Navy with 27 years.  I spent the next 21 years in the Submarine Force starting in Diesel Submarines retiring here in Silverdale in 1990.  Until 1987 I had never lived in the same place for much longer than 2 years. Now we really feel at home and connected to this community.
Jill and I were married at the Bangor Chapel in 1983, where we combined our families through my adopting her two children.  We have been very blessed as our family continues to grow. We are now proud parents of 3 children, very proud grandparents to 7 grandchildren, and super proud of our first two 2 great grandchildren.  After a lot of intense training from Jill, in the art of being a "Civilian", I learned to use those skills as an owner and director for 2 manufacturing plants, a Real Estate Broker, and designer and contractor for building our home.  I have been connected to the Kitsap community as an active member of the Silverdale Rotary Club since 1990.  Jill and I came to SLC in 2018, and immediately felt welcome with Pastor Bill and the many members that we met. We joined in 2019 and feel very Blessed to be a member of this wonderful and active Christian Family. We look forward to serving and working side by side with our Brothers and Sisters at SLC, and we are excited to continue our journey in faith through Christ.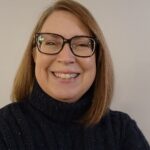 SECRETARY – Jane Rasely
My journey at Silverdale Lutheran began when my husband, Jeff, and I moved our family to Kitsap in 1995.  We love life in Kitsap and knew we had arrived at our new church home the minute we stepped in the doors of SLC!  There is such a vibrant social life with so many opportunities for fun, education, and support here.  When my four children were toddlers, Mothers' Circle kept me sane and some of the ladies I met there are still my closest friends today.  Youth group was a great place for our kids to connect with other like-minded teens as well as have the chance to serve on local, national, and even international servant trips.  As a chaperone for several of these trips, I was blessed to watch our youth grow and amazed at their work ethic and caring response to those we met away from church.
I am so lucky to be able to give back to the church through serving as Secretary for the Council and am happy to help in any way I can.  Please do not hesitate to reach out if you have any questions about programs, worship services, a prayer concern, or just to introduce yourself as I love making new friends.
TREASURER – Karen McQuillan
I became a member of SLC in 1987 when I moved here from North Seattle where I was a member if Luther Memorial my whole life.  I married my wonderful husband Chuck in 1988.  We have two beautiful daughters, Jennifer, age 32 and her husband Animesh, and Jessica, age 28.  Chuck retired from Keyport where he was an Electrical Engineer.  I worked for an accounting firm on Bainbridge Island for 13 years. I then went to work for the CKSD where I was a Payroll Officer.  I retired from the district.  I have taught Sunday school for many years and have been greatly involved with the youth group.  I feel very blessed to be part of this Church family and am honored to serve as Treasurer.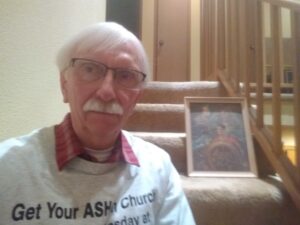 PROPERTY & GROUNDS – Bob Arper
Baptized 1949 at SLC, Confirmed 1960 at SLC, Graduated Central Kitsap High School 1964, Served in US Army May 1968 through May 17, 1971, Graduated University of Washington 1974, and Married Karen L. Roark August 17,1974, at SLC.   Karen and I had two boys, Brandon and Kristian, who were baptized in 1980 and 1984 respectively at SLC and went through the SLC Confirmation and Youth programs at SLC.  Brandon and Kristian graduated from Olympic High School.  Brandon graduated from Western Washington University and is now living in Seattle.  Kristian (Kit) graduated from the University of Washington and is living in Portland, Oregon.
I have served many positions at SLC including one of the SLC representatives to Olympic Lutherhaven, as the Financial Secretary, the Youth representative on Church Council when Pastor Jeff Frohner was our pastor, then off and on as Property & Grounds representative and Trustee since 2011.  I am currently one of the Island Lake Cemetery committee members serving as Treasurer, an Altar Care member, Property & Grounds representative on Church Council and as a Trustee, and representing SLC as one of the Board members for Olympic Lutherhaven serving as Treasurer, and the current Committee Chair for All Church Camp at Olympic Lutherhaven.
Activities outside of SLC have included Cub Scout Pack 1540 Committee Chair and Webelos Leader, an assistant youth Soccer coach, currently the Treasurer for Olympic Vintage Auto Club, and a member of the Poulsbo Sons of Norway Vikings.  My plans for SLC in 2022 are installing a backflow valve on our irrigation system, repairing the projector screen in room 4, installing a handicap access ramp from the parking lot to the Gathering Place entrance, and installing a gate at the SLC entrance.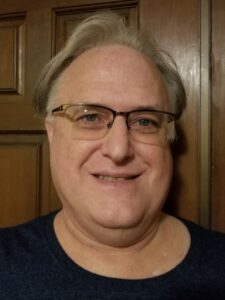 STEWARDSHIP – Scott Grasmick
I have been attending with my family Silverdale Lutheran for about 7 years.  Previously, we were members of Tracyton United Methodist Church.  While at TUMC I held and served in various church board positions.  I have also been a board member with other non-profit organizations.  I am currently retired from working from Puget Sound Naval Shipyard.
I enjoy traveling, sports, and spending time with my family.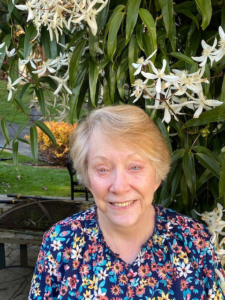 WORSHIP & MUSIC – Jo Schaefer
I began my Christian journey at the age of five when I went forward during an alter call. I was baptized as a teenager with a group of young people while attending Liberty Lake church camp.  There were several Pastors in my family, all of which were of differing denominations, none of which were Lutheran. As a young man my husband served as an altar boy in the Episcopal Church and we were looking for a church we could share together. After visiting many churches we felt the Silverdale Lutheran Church with a welcoming congregation that reflected god's love was perfect.  As a combined family of five boys and four girls we have always been involved in youth actives. The youth programs, the music and message from the pastors make our community a better place to live. The worship and music committee in an effort to better serve the congregation welcomes additional volunteers. If you are seeking ways to share your love with the SLC family please feel free to have a conversation with me.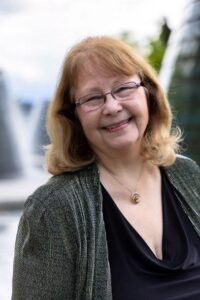 EDUCATION – Karen McNamara
My family and I began coming to Silverdale Lutheran Church (SLC) in 1998 when we transferred to this area. What drew us in were the active Youth and Education programs. Both of our children were confirmed at SLC, I have been active in SLC Sunday School and VBS, and my husband Kevin served on the Council as Treasurer for several years. At the age of five I knew I wanted to be a Nurse or a Teacher. I have been blessed with both opportunities.  I received my Bachelor of Science in Nursing, followed by 25 years as a Navy Nurse Corps Officer. Mid-way through my Naval Career, I got my Masters in Education, and have enjoyed teaching Leadership, Nursing and Children/Youth.   I began teaching Sunday School at age 17, have never stopped, and have loved watching faith journeys and ah ha moments in every age group throughout the years. If you haven't guessed, I have a passion for Education, and have experienced how SLC shares God's word and love both in the church and the community. I am honored and excited to join the Council in the role of Education.  We will learn, outreach and have fun together.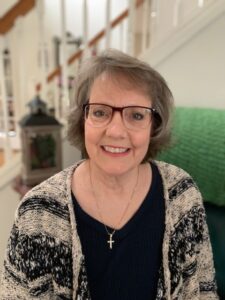 FELLOWSHIP – Susan Shultz
My family and I have been faithful members of Silverdale Lutheran Church since 1975. I have served in many diverse roles during my time at SLC.  It is exciting to take on the role in Fellowship and I look forward to seeking out opportunities to celebrate and gather together as brothers and sisters in Christ.
My husband Clayton and I currently make our home in Bremerton.  God blessed us with the opportunity to raise three beautiful daughters and now we watch as they raise families of their own.  Clay and I enjoy traveling, camping, boating and spending time with family and friends.  Currently, I serve as the Police Chief of a small southwest Washington City, which provides me great opportunities to serve others with the love of Christ.
If you are interested in participating in or creating any fun opportunity of fellowship, please let me know.  We want all of our family members to be a part of celebration of our Lord.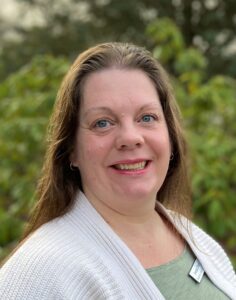 YOUTH – Jacque Story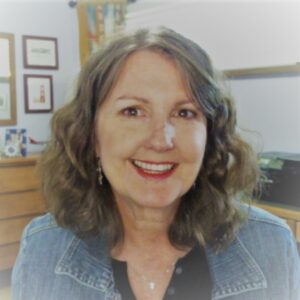 EVANGELISM/OUTREACH – Teresa Walton
Hello! I have been a member of SLC since 2015. I attended Easter Service that year then continued coming back for more. I went through a Foundations class and became a member in that first year. I truly love the Spiritual experience here. I grew up in Kitsap County and received a Computer Informations Systems degree from Olympic College. I work for a travel company doing webinar production. I have previous experience with software applications, website administration, marketing, and graphic design. I also do a little Web Development on the side. In May of 2021, I was married to my amazing husband, Bryan, in SLC's beautiful sanctuary. Bryan is a retired Mechanical Engineer having served 38 years at PSNS. We have a well loved Australian Shepherd named Raymond and we enjoy outdoor activities like hiking and camping with him. I also enjoy digital arts, fiber arts, cooking, reading, and photography.
I am very honored to serve SLC as your Evangelism/Outreach person. The opportunity to learn and grow in this position is a blessing to me. You can often find me helping out with the slides or cameras at the back of the sanctuary. I look forward to getting to know you!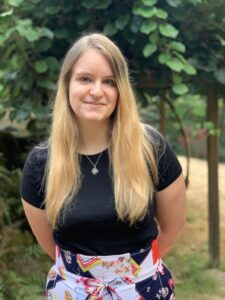 SOCIAL CONCERNS – Katie Shaw
Hello! My name is Katie Shaw, and I have been attending SLC since I was about 12 years old. I am now in my mid-twenties and currently work as a database programmer, and occasionally as a freelance editor. I enjoy music, reading, nature walks and trying new foods. I feel very blessed to be able to learn, grow, and serve this congregation and community through my position on the council. I'm always happy to share a meal or a coffee with you!