For information on becoming involved with any of the ministries,
please contact the church office  at (360) 692-9263.
Worship Participation and Support

Liturgist – Sings the liturgy as Worship Assistant usually about once every two months.
Scripture Reader  – Do you like to read aloud?  Would you like to share your gift of reading scripture with the congregation?  This ministry gives people the opportunity to read the  Sunday scripture lessons at either the first or second service.
Acolyte  – This is a youth ministry that assists with our weekly worship.  Sunday involvement includes carrying the cross, lighting the altar candles and helping serve communion at either the first or second service.  Ages 10-15.

Altar Care – Would you enjoy making our worship space welcoming and inviting? This important ministry prepares the sanctuary space for weekly  worship.  It involves coordinating and setting up the altar area for weekly services by laying out the cloth paraments (or changing them when seasons change), checking the candles and flowers, and setting up for communion and Baptism (if one is scheduled).  Time commitment is one month a year, working with a small team of people.
Usher – Do you have the gift of hospitality and could help people feel welcome on Sunday mornings?  We'd like to invite you to be a part of our ushering ministry!  Participating in this ministry includes welcoming people as they walk in the doors, handing out bulletins, gathering the offering, and directing people forward for communion at either the first or second service.
Audio Team – Volunteer to assist in the audio controls during worship, and record sermons and readings to be uploaded to the website.
---
Youth and Families Ministries
Kids Do Worship As you enter the Narthex and take a bulletin and beacon, please grab a kids tool kit! Look for the colorful plastic clipboards. These kits are filled with supplies to help make Worship a bit more interactive for our elementary-aged kiddos.
middle –  the middle is for 6-8th grade.  middle Sundays meet at 5pm weekly and middle wednesdays at 6pm
SLY – 9-12th graders gather on Sunday night at 7pm, then again on Wednesdays at 7:30 pm.
middle/SLY Devotions  – Devotions for our youth, available on our APP or online at: YOUTH DEVOTIONALS
Nursery – The church nursery provides child care for children of members and guests during Sunday morning worship services, choir practices and other specified events. Children should be infants through age 4; space in the nursery is available to separate mobile from non-mobile children.  On occasion, childcare for special events may be available for older children in a location other than the nursery, provided there is additional staff and advance notice.  
---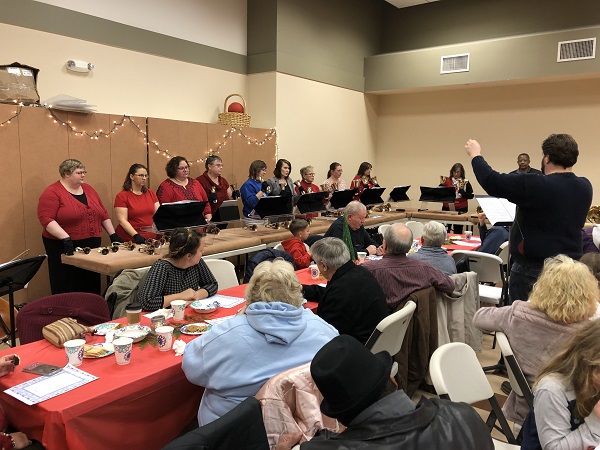 Alleluia Ringers – Handbell choir rehearses Thursday evenings from 6:45-8:00pm.  Plays for services two times monthly, and once at 8:30am & once at 11:00am.  This ministry is open to anyone Junior High age and older and is an excellent ministry for those who already read music rhythms.  If you haven't played handbells before, we'll teach you!
EWB  – The Electric Worship Band meets weekly to rehearse and leads worship about once a month.   This group takes hymns and plays them with electric instruments and arrangements blended with more modern praise music.
Quartets   – There is no higher test of vocal production and blend than what can be achieved in intimate quartet singing.   Our quartets are like small group cells of singers who choose to be together or assigned by the music director.   They are the backbone of the other music programs and worship leading.
Sanctuary Choir –This group has paused for Covid considerations.   Join the Zoom choir or smaller singing groups.   Once the pandemic is over we will resume as before.
SLC Brass  – A casual group of brass players that meets by appointment and plays along with the organ for festival Sunday's.   Grab your horn and join the fun.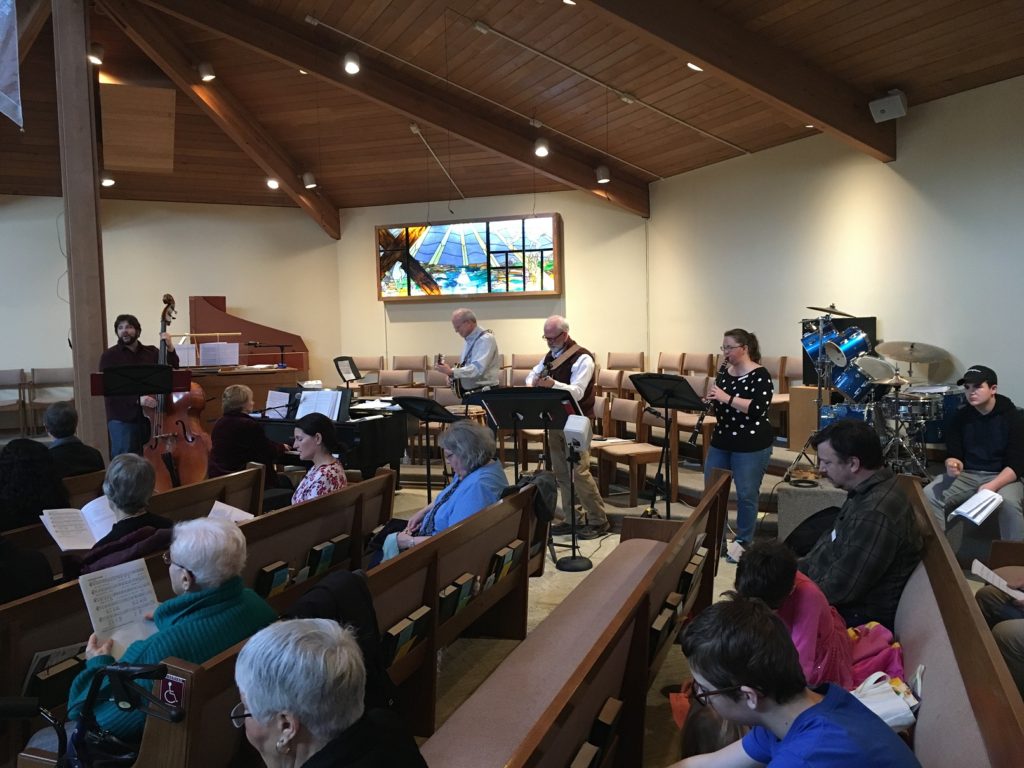 SLiCk Pickers – A bluegrass style band that rehearses as arranged and plays worship about once a month.
SLC Orchestra – A casual group of string players that rehearses and plays for worship.
Special Music – Sing or play an instrument at either 8:30 or 11:00am service on Sundays as needed.  All ages are welcome!
Song of the Church will resume April 29th and continue every Thursday at 530-630pm.  This group is a bit like "Choir-lite"   We meet weekly and do vocal exercises.   Then we study and rehearse the upcoming Sunday's hymns and songs.   Song of the Church is a good opportunity to exercise the voice and to dive deeper into the rich musical tradition of the church.   There is no audition or experience required for this singing opportunity.   It will be a little different spread out and wearing masks but, if you head down to Ted Brown Music in Silverdale they have "Singer's Face Masks"   they have a frame that allows for breathing and resonance.
Come all and join in the song of the church!   For more information on the face masks visit:  Ted Brown's Website
Silverdale Lutheran's Zoom Choir  
As the first church in our area to venture into virtual choirs, Silverdale Lutheran Church has accumulated a large number of hymns for which it has developed the material needed for the transition to virtual choir singing.  Its music director, Justin Cormier, has developed the methods to present hymns with a video of a choir singing together (though recorded separately by each singer), and its mixing engineer, John Ackenhusen, has developed a regular process for completing these recordings. We have over 50 hymns that are ready to share, with about four more being added after each weekly church service.
Zoom Virtual Choir Resources Liturgy hymns, Individual songs with links to Dominant Alto, Bass, Tenor and Soprano and more.
Special Music – Sing or play an instrument at either 8:30 or 11:00am service on Sundays as needed.  All ages are welcome!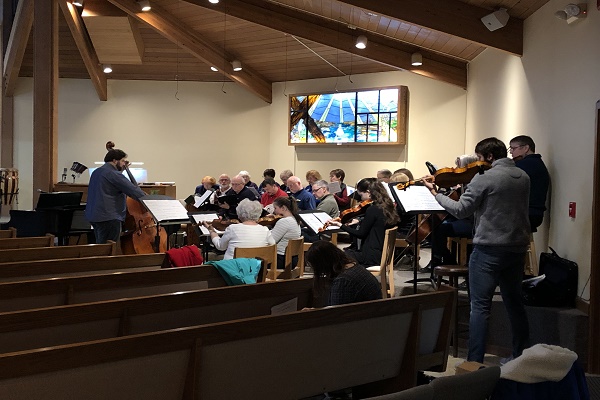 ---
Silverdale Lutheran Preschool – This ministry of Silverdale Lutheran Church assists children to develop spiritually, physically, socially, emotionally and intellectually through the grace of Jesus Christ.  Our primary purpose is to provide a happy, healthy learning environment for children as shown in God's love through Jesus Christ.   For children ages 2-5.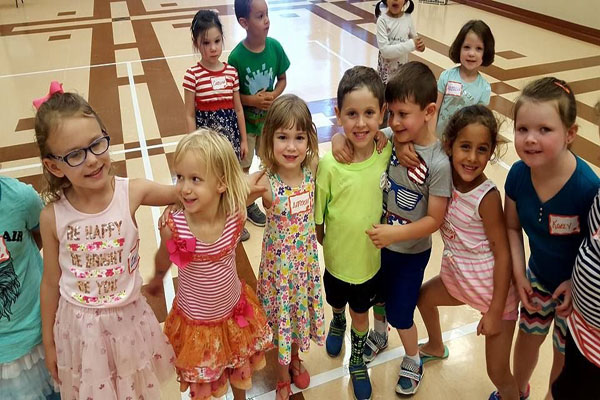 Sunday School – Sunday School is a ministry that seeks to provide rich learning opportunities in a safe, welcoming and grace-oriented environment for all youth -members and friends alike.  Our curriculum centers on basic Bible stories that lift up the unconditional love of God in Jesus Christ and our call to discipleship.  During the Covid-19 Restrictions our Sunday School has been virtual.  Please visit:  VIRTUAL SUNDAY SCHOOL LINK
Adult Sunday School – This ministry takes seriously the thought that "you never graduate from Sunday School!"  We are all called to take an active role in growing in our faith.  Bible study, courses and groups equip us for healthy lives and daily discipleship.  Sunday mornings 9:40-10:40am there is generally at least one opportunity for adult education for all adult members and friends of the congregation.
Foundations Class – In this class we cover the basics of Christianity from a Lutheran perspective.  It is a great class for people who are wondering about the faith, those who would like to refresh their faith and those who would like to become members of SLC via Baptism or Affirmation of Faith.
Manna Bible Study – This ministry provides a mid-week Bible study opportunity for those who would like to "dig a little deeper"  into the lessons for Sunday morning worship.  This Small Group Bible Study generally meets on Wednesday mornings at 10:45am in Room 4, just prior to the Hearty Meal program, a ministry of SLC.  Learners look at the lessons for the upcoming Sunday's Old Testament, Epistle and Gospel lessons.  Opportunity for discussion and fellowship offer a wonderful way to get more out of Sunday morning texts.
Lay School of Theology – The Lay School of Theology is a yearly educational opportunity to learn in-depth about a theological subject, which varies from year to year.  Taught by guest speakers.
Community Group Bible Studies – These groups seek to offer authentic Christian community.  They typically study the Sunday scriptures and sermon from the Sunday prior to when they meet.  The hope is to connect daily life with the Sunday proclamation.  In addition to the Bible study, the groups build caring and supportive relationships and pray for each other.  These groups are continuing to grow and we can find a Community Group for you!
We also offer other Educational Opportunities throughout the year. Contact the Office or Pastoral Staff at 692-9263 for current education opportunities.
Community Groups: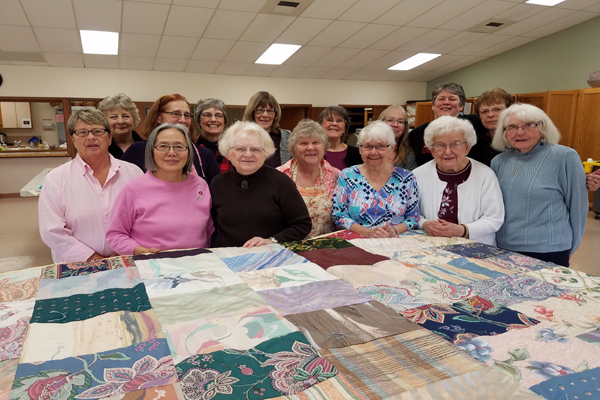 Joy Circle – This ministry welcomes all women of the congregation to join us as we learn from and are encouraged by our monthly Bible studies, discussion, and prayer time.  We meet the third Monday of the month at 7:00pm at a members' home.  Through fellowship time we develop friendship bonds that provide support and comfort for each other. Our monthly offerings help support various ministries of the congregation.  We welcome new members at any time!
Naomi Circle  – This women's ministry meets the second Tuesday morning of the month in members' homes. Time is spent in Bible study and fellowship.  Offerings are accumulated and donated to a worthy cause.
Esther Circle  – This women's ministry meets on the third Tuesday of the month at 9:30am in Room 4 at the church.  Our main emphasis is Bible study.  Our circle has been an active part of our church for over 40 years (we are all ages), and we have provided each other with support in our Christian faith through sharing and caring along the way.  We LOVE to have new women come and visit and welcome anyone to join us at any time!
Ladies Night In – A small virtual group bible study led by Kim Grasmick.  This group meets at the first Monday of the month at 7:00 pm.   
That Time of the Month  – For SLC Moms by SLC Moms:  A monthly chat about relationships, parenting, and beating the stresses of pandemic life… Save the date for February 25th! We will meet on the fourth Thursday of each month at 7pm on zoom!
Man Date  –  The Man-Date meets on the 4th Tuesday of the month at 6:00 p.m.  Each night there will be a topic for discussion, but  this is simply a time were guys can come and talk about what ever joys or struggles they are having with faith and life.  Meeting locations vary, for example:  Casa Mexico, World of Beer or Maynards.
Men's Prayer Breakfast  –  The Men's Prayer Breakfast is about being fed with food for the body AND the soul. We pray for those in need, have a short Bible study and breakfast with fellowship together.  We meet every Friday morning at 8am at the Silverdale Bowling Alley.  All men are welcome to please join us!
Alzheimer's Support Group – This group meets the first & third Tuesday of every month in the study. Join others who are affected by memory loss of a loved one, in a supporting atmosphere.
Prayer and Care Ministries
Prayer Chain Ministry –  SLC has an active Prayer Chain Ministry.  It is available whenever there is a need in your family, for a friend, or any prayer concern.  All prayer requests are treated with confidentiality.  How the Prayer Chain works: The church is notified (by phone, email or Ministry Card) simply stating the prayer concern and request.  The office notifies the pastors of the concern and then emails and all participants who are "Pray-ers". 
Care Ministry  – Care Ministry gives support and assistance to the elderly, disabled, chronically ill, and their families.  Non-medical "quality of life" needs of individuals such as transportation, errands, friendly visits and occasional meals are provided free of charge.  To become a care-receiver or care-giver please contact the church office at: slc@silverdalelutheran.org
Silverdale Lutheran Quilters  –  Quilters meet each Monday from 9:00am-1:00pm in the Fellowship Hall.  Our quilts go to Lutheran World Relief and are sent wherever there is a need.  We can use clean, gently used sheets, drapes, blankets and new materials you may no longer want.
Prayer Shawl Ministry – We prayerfully knit or crochet Prayer Shawls, baby squares  (for unborn babies) and baby caps for anyone in the community to comfort and/or celebrate life's experiences from birth to death.  Both the creator of the shawl and those who receive them are reminded of God's everlasting presence in our lives.
"In Touch" Card Ministry  –  Do you have a creative "artsy" side?  Do you like to make cards and reach out to those who need a word of encouragement?  This ministry sends cards to visitors of our church and to all those who need our prayers and encouragement.
Labyrinth – The labyrinth, dated back to ancient times, is a way to experience and celebrate their relationship to God, life, and nature through "active" prayer. Silverdale Lutheran is blessed to have a beautiful labyrinth that evokes prayer and meditation on our campus. You are always welcome to come walk the labyrinth to pray, contemplate, or connect with God through active prayer.
Commemorative bricks are available to be placed in the labyrinth. Contact the church office with interest in purchasing a brick.
Fellowship
Olympic Lutherhaven – Lutherhaven is a wonderful picnic, swimming and recreational facility on Wildcat Lake, co-owned by SLC with other local Lutheran churches.  We use this site for various fellowship opportunities: Family Camp, All Church Youth Bible Camp, our Annual SLC Picnic, and youth activities like Wednesday evening Bonfire Nights.  We participate in work projects to maintain and improve the site.  Please consider helping support this great fellowship site or helping plan events held there.
SLC Family Camp  –  Every summer, SLC families gather for outdoor recreation, crafts, fellowship, campfire experiences and Bible study at our lovely Olympic Lutherhaven on Wildcat Lake, usually known simply as Lutherhaven.

Silverdale Lutheran Church Picnic  – A special time in our summer experience when we gather at Olympic Lutherhaven for the annual church picnic.  We kick off this great fellowship experience with a brief outdoor worship service, followed by a potluck meal, games (like the Men's High Heel Fling!), water sports and fun.
Annual Silverdale Lutheran Golf Tournament – Our golf tournament is held every September at Rolling Hills Golf Course in Bremerton.  Scramble format allows for fun competition regardless of skill level.  Great fellowship opportunity!  A barbeque follows the tournament.  ALL ARE WELCOME!  We look forward to seeing you there.
Church League Softball Team – A great Spring & Summer activity open to both guys & gals-we play other church teams in Kitsap County.  Wonderful family fun!
Outreach Ministries
Habitat for Humanity of Kitsap County  –  We have an active participation in this non-profit, non-denominational Christian ministry.  Habitat helps those for whom homeownership was only a dream, to build and own their own home.  Opportunities abound in this program!  You need not know how to wield a hammer; volunteers are needed to provide meals to workers, helpers at any job site are always welcome.  You are required to complete a training/orientation prior to beginning.  You may visit the website: www.kitsaphabitat.org.
China Mission  – Our congregation supports China Connect. CC is working to bring education, nutrition and health care to China.  Children whose parents cannot afford to send them to school are able to get an education through the generosity of God's people.  For more information, visit their website at www.chinaconnectonline.org
Lutheran World Relief (LWR)
Silverdale Lutheran Church's involvement with LWR is emphasized by a twice yearly Ingathering of personal toiletries for Health Kits, School Kit items and quilts which are all made by SLC Quilters.  These items are shipped to LWR for distribution around the world.
Hearty Meals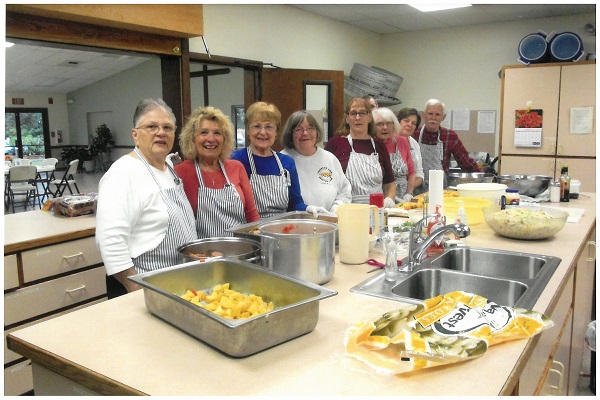 This ministry serves lunch on Wednesdays to those in the community who are on a low or fixed income, those who live alone or those simply needing fellowship!  Anyone is welcome and no one is turned away!  Two teams of volunteers alternate fixing and serving the meal.  Volunteers are always welcome.
Other Outreach Ministries Supported by SLC
Martha & Mary Health Services
 Central Kitsap Food Bank (donations taken 1st Sunday of each month)
Benedict House
http://www.ccsww.org/site/PageServer?pagename=housing_benedicthouse
Living Stones Prison Ministries
 http://livingstonesprisoncongregation.com/
Building and Grounds Support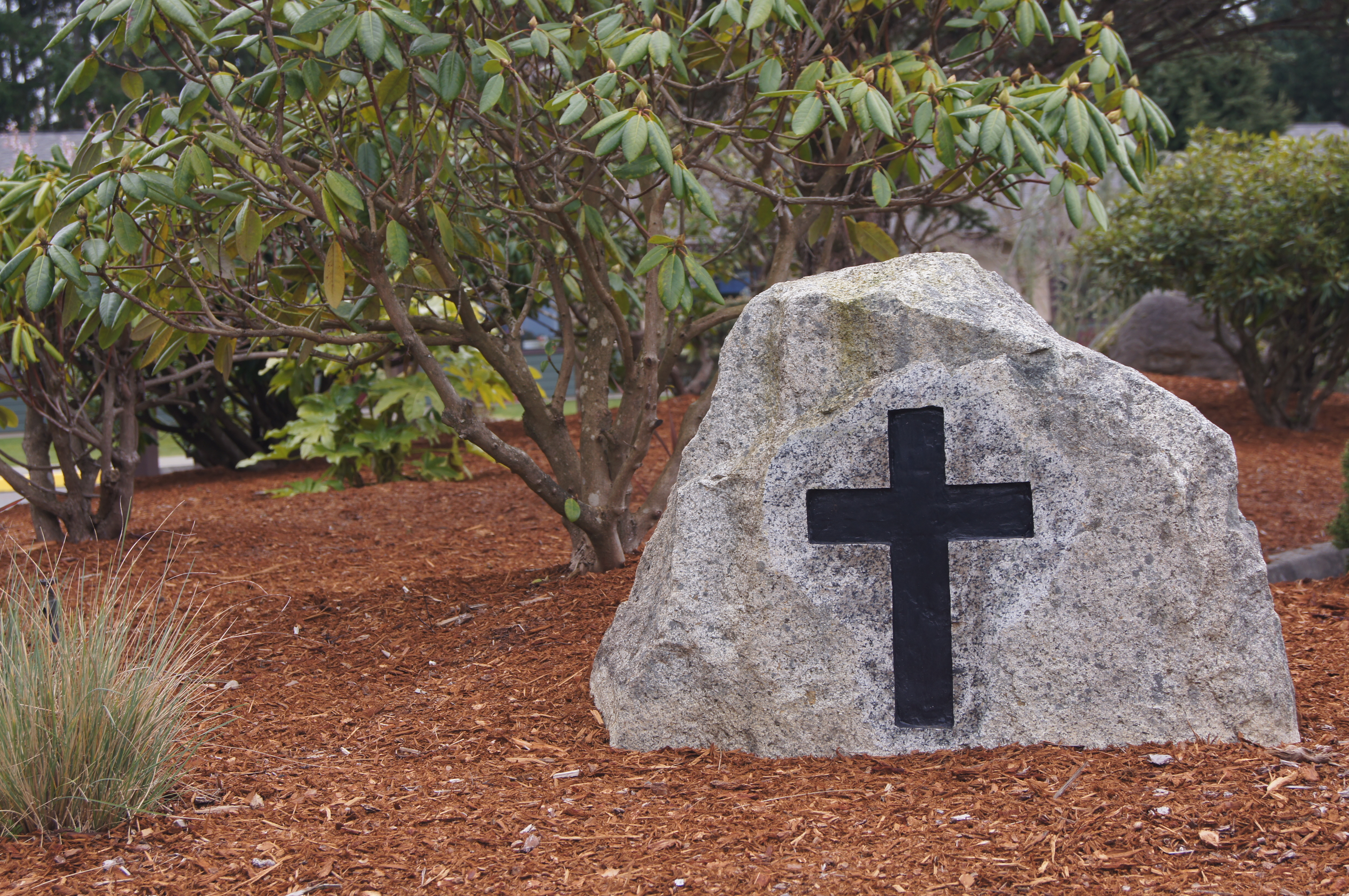 Buildings and Grounds Care – We have a large area of landscaping surrounding our facility and two large buildings.  This is an excellent ministry opportunity for folks to offer their services and keep beautify their church.  There is always a long "to do" list!  Jobs can suit participant's schedules and are not limited to certain days.  Activities include periodic maintenance projects, coordinating spring and fall cleaning, painting, and some minor building repairs.
Island Lake Cemetery
Island Lake Cemetery  –  ILC is a place of solitude for those family and friends that come to remember their loved ones and often share of their families. Island Lake Cemetery is not exclusively for Lutherans but open to all faiths. We also support the Easter Sunrise Service and Memorial Day Service with the church and the community. Throughout its existence, the Island Lake Cemetery has been operated and maintained by volunteers.  Most of the volunteers, in nearly a century of existence, are or have been members of Silverdale Lutheran Church.  Like many of the ministries of the church, it takes a lot of HARD work from many people.  Not only is this a valued ministry at SLC, but it is an opportunity to learn a great deal of interesting facts about the families that settled in the Central Valley community.  Originally named the Island Lake Skandinavian (Scandinavian) Lutheran Congregation Cemetery, it is a five acre parcel located at 12851 Old Military Road, Poulsbo, WA.
Weddings
Weddings – Silverdale Lutheran Church is happy to conduct weddings on the premises. For more information regarding weddings at Silverdale Lutheran, please contact our wedding coordinator, Deb Buck, at weddingcoordinator@silverdalelutheran.org
QR Code - Take this post Mobile!
Use this unique QR (Quick Response) code with your smart device. The code will save the url of this webpage to the device for mobile sharing and storage.