You were made for relationships.
We were made for relationships.
With God.
With each other.
With our community.
---
"Create effective social spaces where people can meet new friends and learn about God together!"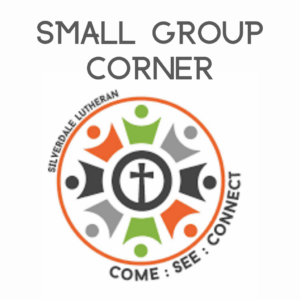 Small Group Corner #7
Small-Group Connector Chris Love
Email:  groupconn@silverdalelutheran.org
---
In John 1, we read the story of how Jesus invited the disciples to "come and see." Following Jesus' lead, we have found that one of the best ways to come, see and connect with Jesus, with others, with ourselves, is through relationships built in small groups. SLC small groups include:
---
Gift of Years for Older Women                       Faith Fellowship for Older Men                       Mom's Circle
(Alternating Tuesdays, 2 pm)                          (Every Thursday, 1pm)                                      (Every Wednesday, 10:45am)
---
Men's Prayer Breakfast                                    Christianity & Criminal Justice                         Esther Circle
(Every Friday, 6am)                                          (Every other Wednesday, 6pm)                        (3rd Tuesday, 9:30am)
---
Walk then Talk                                                   SLC Quilters                                                         Rooted and Renewing
(on hiatus for the winter)                                 (Every Monday, 10am)                                      (Monday 5pm Feb-Mar 2020 )
---
Lenten Spiritual Disciplines                             Joy Circle                                                            Young Families Faith Study
(Sundays 9:45 am, Mar-Apr)                           (3rd Monday, 7 pm)                                         (Fridays, 6:30 pm)
---
Older Families Bible Study                             Central Kitsap Bible Study                               Seabeck Bible Study
Saturdays, 6:30 pm                                           (no current openings)                                        (no current openings)
---
Young Adults
Time TBD
---
For information about these small groups please contact the church office at slc@silverdalelutheran.org or 360 692 9263.
Music Minister Justin Cormier also guides a number of musical small groups dedicated to a wide range of instruments and styles. Please contact him at jcormier@silverdalelutheran.org or (360) 692 9263 if you would like information about musical small groups.