Devotions are being with God in Word and prayer. Whether you have done devotions for years, or tried and failed time and time again, we would like to encourage you to give them a try again. Here are some resources to help. Whether you add to what you are already doing, or give something totally new a try, we welcome you!
For a full outline of all of our devotional resources, download the PDF of our Devotional Resource Guide.
Written Devotional Resources

From the Weekly Devotionals in the bulletin, or learning to annotate scripture, to checking out a devotional from our lending library, we have several devotional resources available here at SLC.
Visual and Tangible Devotional Resources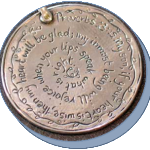 Perhaps you need a visual or tangible reminder of Being in God's Word and Prayer. Consider contacting Wade Randall for a Scripture Medallion or set of scripture-a-day cards.
Devotional Apps, Blogs and Websites

We've curated a list of devotional apps and websites for you to try out. These can help you in your devotional life, even when you're constantly on the go.
Devotions for Small Groups

Consider joining a small group bible study or participate in a small group program like Storyline. Contact Mike and Kathy Havers for information on small group bible studies or Ann Daly for information on Storyline.
Family Devotionals

Doing devotions with your family is a great way to be close and to share your faith.  But it can be really hard to know what to do. Check out the Faith 5 for a great way to do devotionals as a family.