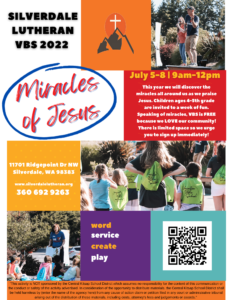 A Week of Miracles
VBS July 5-8, 2022 – VBS REGISTRATION IS CLOSED
miracle – a wonderful event that shows us the power of God, or an especially vivid moment when as a result of an unexpected and surprising event, one becomes aware of the presence and power of God at work.
It's time for another summer of fun at Silverdale Lutheran! We will discover the miracles of Jesus in the great outdoors. This year we are welcoming children from Pre-K to 5th grade to discover the love of Jesus and the miraculous ways we can share that love with others. Sign-up for music, games, and Bible stories. We will play, create and serve others through various servant projects. These projects will help children live out the Bible stories while loving the world around them. Friendship and fun await! Space is limited!
QR Code - Take this post Mobile!
Use this unique QR (Quick Response) code with your smart device. The code will save the url of this webpage to the device for mobile sharing and storage.