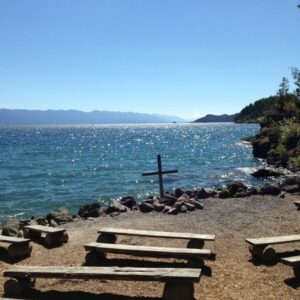 Summer Servant Trip July 9-16 2022!!
High school youth, sign up NOW for our trip to play and serve near beautiful Glacier National Park. We will enjoy several days at Flathead Lake Bible Camp, a kayak trip to camp on an island, service in the local community, and a connection with the Blackfeet Nation.
All current 9-12th grade youth are encouraged to sign up for a packed week of adventure. Connect and Serve in Christ's name this summer!
SLC Registration Form Flathead Lutheran Bible Camp Registration Form
How much will the trip cost? $400 (scholarships available)
What will we be doing? FLBC is a fantastic 200-acre camp, and we will take full advantage of their facilities, including high and low ropes, kayaking to local islands, and local service in the surrounding area. We will also have the chance to connect with Blackfeet elders and hike in Glacier National Park.
Who can come? Any CURRENT 9-12th grade youth is invited to come, whether they attend this church or not, BUT they must fully participate in our meetings, fundraising, and anything associated with the trip.
What about adults? We currently have all of our chaperone positions filled but feel free to contact us if you have any questions.
What is expected? Attend monthly check-ins for youth and adults and participate in fundraisers. We fundraise for the whole group, but individuals are free to do their own fundraising (earning the money can give youth more ownership in the trip). We also do a lot to prepare ourselves to be servants.
Sign-ups and Deposits? Registration is below and the payment site is linked on this page as well. We are asking those who sign up after May 15th to make the full payment or contact Pastor Jonathan about a scholarship. We can be flexible with your budget and your timeline
Why should I go? Trips are where faith becomes three-dimensional for our youth (and adults too). Bible stories on a page come to life; faith becomes a practice instead of an idea, and the community gets lived out in beautiful and challenging ways. And, in 14 years, we have never seen someone get less than they gave. The one serving always gets served in surprising ways. Full Payment Link
QR Code - Take this post Mobile!
Use this unique QR (Quick Response) code with your smart device. The code will save the url of this webpage to the device for mobile sharing and storage.