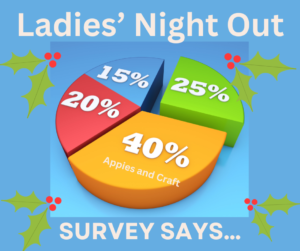 The December Ladies' Night Out survey I sent out last week was slightly in favor of appetizers and a craft.  We will meet Tuesday, December 13 at 6:00 in The Gathering Place.  Please bring a heavy appetizer to share and if you'd like, a beverage.  We will make some easy Christmas Cards with watercolor or acrylic and can pick our own techniques on Youtube, so bring your phones.  I have all the necessary supplies, but if you have a color palette or a favorite brush, please bring it.  If you don't want to paint, I have some Christian-themed mandala pages and colored pencils that I will bring.  RSVP and let us know if you would like the nursery.
LNO RSVP & Child Care Request 12/13
QR Code - Take this post Mobile!
Use this unique QR (Quick Response) code with your smart device. The code will save the url of this webpage to the device for mobile sharing and storage.