Ladies Night Out – Kim Grasmick hosts this monthly night out for women aged 18 and up. We gather together on the 2nd Tuesday of each month at 6:30 for fellowship and fun. Sample activities have included movie nights, paint-and-sips, Bible studies, and more. The no-cost nursery is available for children 5 and under.
September Ladies' Night Out | Sept 14 @ 6:00 pm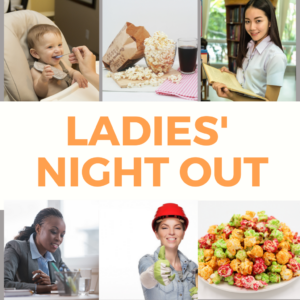 Help us launch a new Women's Group! September's Ladies' Night Out will be a little different. Julie Gillies is launching a women's group called Women at the Well. The group is for working women to provide a supportive, social environment for women of faith. Their first gathering will be at Ladies' Night Out so all women can learn about and support the group. The dates and times for Women at the Well are TBD, but the one thing we do know is there will never be any prep or homework required! Women of all ages and working statuses — please come and enjoy this evening of fellowship — of sistership — of popcorn tasting!!
Tuesday, September 14 at 6:00, childcare provided with signup.
QR Code - Take this post Mobile!
Use this unique QR (Quick Response) code with your smart device. The code will save the url of this webpage to the device for mobile sharing and storage.