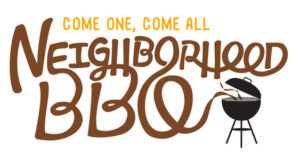 Ridgetop Neighborhood BBQ
Ridgetop Neighborhood BBQ—Our 2nd annual community BBQ is set for Wednesday, August 14th at 5pm in the SLC parking lot. We are still in need of SLC members to welcome, accommodate, feed, host & care for our neighborhood guests. Through this BBQ we are working to implement our Break the Barrier strategic plan, contributing to our community outreach as we focus outwardly to connect our neighbors to Christ. Our upcoming community BBQ provides an opportunity for sharing our story! No need to sign-up, please just arrive at 4:30pm on the 14th to assist! Donations to benefit our neighbors are currently being accepted (see below).
What We're Collecting…
Donation bins are available in the Narthex
School Supplies: Composition Notebooks, #2 pencils, Colored Pencils, Large Erasers, Crayons, Pens, Highlighters, Bottom Pocket Paper Folders.
Gently Used Sporting Goods: baseballs, softballs, kid's gloves, frisbees, footballs and bike helmets.
New and Gently used books.
We will NOT be collecting large items such as bikes or skis this year.