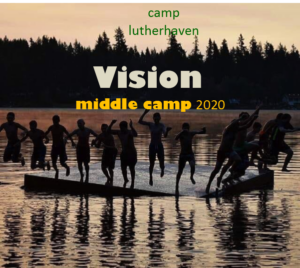 middle camp:
mark your calendars for june 21st-25th for middle camp 2020.
chris and alyssa are back as leaders and this collaboration is the start of something BIG!  2020 means it's all about vision – seeing jesus clearly in each other, in our world, and in ourselves.  plus ga ga, square in the air, worship, swimming, great food and a few new surprises.  we can't see as clearly without YOU, so gather all your middle school friends and get ready for an incredible start to your summer.
cost is $150 and all present 6-8th graders are invited.
PAYMENT STEPS BELOW FOR LAY SCHOOL
Click on the [VANCO PAYMENT SOLUTIONS] icon below
Input the dollar amount for [middle camp].  Cost is $150 per person
Scroll to the bottom and select [One Time] under donation frequency.
Select [Continue] and..
Follow the onscreen instructions to make a payment for the event.