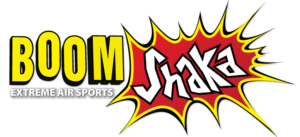 Sunday, April 14th – we will be going to BoomShaka Trampoline Park in Olympia!
Meet at church at 12:30, cost is $15.  We should be back around 4:30.
Parent drivers are also needed! RSVP's are required for this event to ensure a proper number of drivers/seats are available to accommodate everyone.
Please sign-up on the Family Bulletin Board  (across from the church office) no later than Mar 10th.  You can also email pastorpaula@silverdalelutheran.org
BoomShaka in Olympia is the ULTIMATE trampoline experience!
Cost is $15* for the "flight ticket".  *Please note, grip socks are required to participate. If you have your own grip socks, please bring them. If not, grip socks are available for purchase at BoomShaka for an additional $3 (socks are then yours to keep).
All parent's MUST sign an online waiver at:  https://boomshaka.pfestore.com/waiver/