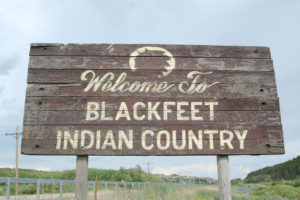 Youth Summer Service Trip | July 19-28 [Registration is closed]
This summer's trip is planned for July 19th-28th. We will leave Silverdale on the morning of the 19th and drive to Camp Lutherhaven in Idaho for a two-night stay at this amazing camp. The next day we will trek to Heart Butte, where we will stay in the local school and make a daily drive up the mountain to accompany tribal elders and others in building a lodge for the Sundance. Our evenings will be filled with a combination of free time, meals, worship, and games, but we will also get a chance to dance with the family of an elder in the community who will also share her journey as a Christian using her traditional ways to deepen her faith. Toward the end of the week, we will have the chance to participate in the Sundance, set up and camp out in a teepee, and experience community on a whole new level. We will also make a trip into Glacier National Park for an unforgettable hike.
---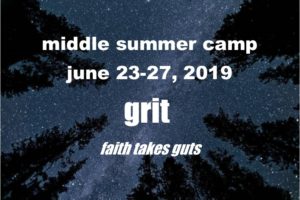 middle summer camp | june 23-27 @ olympic lutherhaven
WHO:  

      those who have completed 6th-8th grade


WHAT:

       an overnight summer camp for middle schoolers


WHERE:

      olympic lutherhaven | wildcat lake


WHEN:

       june 23rd-27th, 2019


COST:

       only $100 per youth
Registration closes June 5th.  Click here to register.  
---

2019 VBS
We got GRIT
[God-given Really Incredible Tools]

Silverdale Lutheran Vacation Bible School  |  Jul 29th – Aug 2nd Monday through Thursday |  9 am to 12 pm  | Silverdale Lutheran, 11701 Ridgepoint Dr NW Silverdale Friday | 11 am | VBS picnic @ at Lutherhaven Park on Wildcat Lake | 9375 NW Holly Rd, Bremerton WA COST:  $ 20 per child with a $40 family maximum Registration:  Click here for registration and payment information. 
---
WOW Wednesdays on Wildcat -  July 10 - Aug 14 | 6pm - 8pm
Lutherhaven Park on Wildcat Lake
All ages welcome
Lifeguard on duty from 6-8pm
Burgers and Dogs supplied by participating churches, the rest of the meal will be potluck.
---
All Church Camp | Aug 3-8 @ Olympic Lutherhaven
This is a fun and memorable week of bible camp for youth in the community.  All youth who are entering grades 4-9 are welcome to register.  The cost is $210.00 per camper (or $190.00 with early registration). Online registration begins April 28th.  For more information please refer to their website:  http://www.olympiclutherhaven.org/all-church-youth-bible-camp 
---
QR Code - Take this post Mobile!
Use this unique QR (Quick Response) code with your smart device. The code will save the url of this webpage to the device for mobile sharing and storage.