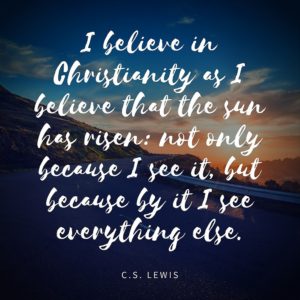 This year, Lay School of Theology will be offering a primer on the life and writings of CS Lewis.  Join us May 18th.  
C.S. Lewis is heralded as one of the most important Christian writers and thinkers of our century.  He is most well-known for the Chronicles of Narnia but has written dozens of books on Christian life and theology.   In particular, he is very helpful when it comes to sharing our faith with those who do not believe.  Indeed, looking at the life of CS Lewis and his conversion to Christianity will relate well to the primary focus of our "Break the Barrier" strategic plan.
Our guest speaker is our local CS Lewis expert, Rev. Ron Hoyum of Port Madison Lutheran Church on Bainbridge Island.  Rev. Hoyum teaches classes regularly on CS Lewis that are attended by people from many different denominational backgrounds.
QR Code - Take this post Mobile!
Use this unique QR (Quick Response) code with your smart device. The code will save the url of this webpage to the device for mobile sharing and storage.