---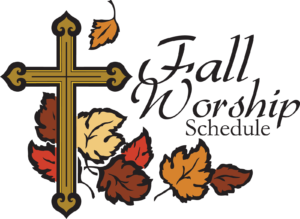 NEW FALL Worship Schedule 
Worship Services at 8:30 am & 11 am
---
Holy Yoga  | Sunday, October 20 | 5:00 pm – Gathering Place
Join us for our Inaugural Holy Yoga Sunday Evening Practice 5-6:15pm in the "Gathering Place" On October 20th. Family and Friends are welcome!  This will be a Gentle Class for all levels. Mats, Blocks, are available if needed.  No Child Care available.
Focus will be on "Spiritual Harvest." What is God harvesting in and through you this fall season that is symbolic of spiritual health, bounty and abundance in your life? Hope to see you on the mat!
Man Date | October 22 | 6:00 pm – Torpedo Town Diner, Keyport WA 
Sharing our Faith Stories.  This is a new restaurant for our group.  You can view their menu at:  https://torpedotowndiner.com/
Fall Women's Retreat | Nov 7th | 9:00a—3:30p
How does it show up in your relationships?   Where might God be calling you to grow? 
This day long retreat at Seabeck Conference Center will give you a chance to take some time to think about your faith.  Cost:  $ 35.00.  Scholarships are available, if interested please contact Pastor Paula at pastorpaula@silverdalelutheran.org
Sign up online at:  https://tinyurl.com/y6yl8ova
Ladies Night In | November 12th | Silverdale Lutheran | 6:00 – Movie Night in Room #4   
Tuesday, November 12th | 6:00 pm – Movie Night in Room #4 at SLC
"Amazing Grace" is two days of Baptist church condensed to 90 minutes and injected directly into your soul. Shot in 1972 over a 48-hour period in Watts' New Temple Missionary Baptist Church, this stirring documentary captured the live recording of the most successful gospel album in history, Aretha Franklin's Amazing Grace. At the height of her powers, with 11 number one singles and five Grammys to her credit, she returned to the environment and the music that honed her voice and nurtured her soul. The result became her biggest seller, earning a Grammy and quite possibly more than a few conversions. This film is a powerful love letter to the Black Church, offering a soul-shaking introduction for the unfamiliar and a grandmotherly yank of the arm for those who know—it drags you from the theater straight into the pews. [Review by Odie Henderson]
Annual Church Meeting | November 17 (after 2nd service) | Gathering Place
---
WEEKLY HAPPENINGS
---
WEDNESDAYS
HOLY YOGA  9:30 am
MANNA BIBLE STUDY  10:45 am
MOM'S CIRCLE 10:45 am
HEARTY MEALS 12:00 pm
YOUTH NIGHTS 6:00 pm
SANCTUARY CHOIR 6:45 pm 
THURSDAYS
PB's BIBLE STUDY 10:30 am 
SONG OF THE CHURCH   12:00 pm
ALLELUIA RINGERS 6:45 pm
QR Code - Take this post Mobile!
Use this unique QR (Quick Response) code with your smart device. The code will save the url of this webpage to the device for mobile sharing and storage.