Microbrews for Martha & Mary | October 1 – 31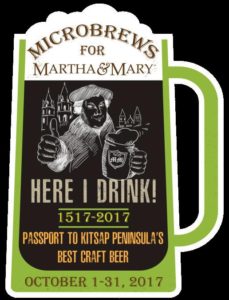 Inspired by 500 years of faith and Martin Luther's wife Katie, who was purportedly the best brewer in Wittenberg, beer-loving Lutherans across Kitsap are uniting in October to support Martha & Mary with a special event called Microbrews for Martha & Mary.
From October 1—31, 2017, participating Kitsap breweries will contribute a portion of their profit from each drink purchased by "Here I Drink!" Passport holders. All donations will benefit a new quality of life program for Martha & Mary senior residents called It's Never 2 Late ® (iN2L). iN2L helps older adults realize the full benefits of today's technology, regardless of their physical or intellectual abilities. Built on a picture-based, touch-screen interface, iN2L allows users to simply "touch" their way to find engaging, educational, spiritual and personalized content. This system provides an opportunity for Martha & Mary residents to experience and learn new life skills that can improve their quality of life.
Pastor Kent Shane of Poulsbo First Lutheran and Pastor Paula Burchill of Silverdale Lutheran are the champions behind this celebratory fundraiser. Their hope is that this event will mark the 500th anniversary of the Reformation with congregational fellowship and community support for both Martha & Mary and Kitsap's craft breweries. Participating breweries include Downpour (Kingston), Hales (Bremerton), Lovecraft (Bremerton), Slaughter County (Port Orchard), Slippery Pig (Poulsbo), Sound Brewing (Poulsbo), Valhöll (Poulsbo) and Western Red (Poulsbo).
Participating churches include Bethany Lutheran (Bainbridge Island), Peace Lutheran (Bremerton), Our Saviour's Lutheran (Bremerton), Port Madison Lutheran (Bainbridge Island),Poulsbo First Lutheran (Poulsbo), Silverdale Lutheran (Silverdale). Spirit of Life Lutheran (Port Orchard) and Vinland Lutheran (Poulsbo).
Microbrews for Martha & Mary "Here I Drink" Passports and Drink Cards will be available for a $10 donation starting September 10. They can be purchased at Martha & Mary in Poulsbo, online at www.marthaandmary.org and at all area breweries and churches participating in this event. For more information, please visit: http://httpmicrobrewsformarthaandmarycom.businesscatalyst.com/
 or call 360.626.7879.