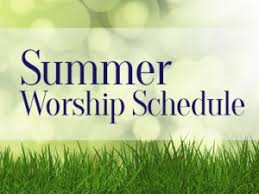 Summer Worship Schedule begins on Sun. May 26th Worship Services at 8 am & 10 am
Summer Brunches between services | June 2nd through Aug 25th
Pastor Paula will be on Sabbatical June 3rd through September 4th.  Pastor Bill, Pastor Jonathan and  Marietta will be filling in where needed
---
Family Camp | June 21-23 | Lutherhaven
Bring the whole family to camp in a tent, trailer, or cabin for a weekend of fun on the lake. A
wonderful weekend has been planned for you at Wildcat Lake! Canoes, kayaks, paddle boards and
more are all available for you to enjoy!  Click here to register.
---
Annual Church Picnic | June 23rd | Lutherhaven
Join us for fun, fellowship, food, games and water activities!
---
middle Camp | June 23-27 | Lutherhaven
Middle camp is coming the first week of summer, June 24-28.  Open to all 5th to 8th graders Click here to register.
---
WOW Wednesdays on Wildcat –  July 10 – Aug 14 | 6 pm – 8 pm
All ages welcomeLifeguard on duty from 6-8pm.  Burgers and Dogs supplied by participating churches, the rest of the meal
will be potluck.
---
VBS | July 29 – Aug 2 | Silverdale Lutheran Church
"We Got Grit".  [God-given Really Incredible Tools]  Click here for registration and payment information.
---
All Church Camp | Aug 3-8 @ Olympic Lutherhaven
This is a fun and memorable week of bible camp for youth in the community.  All youth who are entering grades 4-9 are welcome to register.  For more information please refer to their website:  http://www.olympiclutherhaven.org/all-church-youth-bible-camp`
---
Ridgetop Neighborhood BBQ | Aug 14th
Our 2nd Annual community BBQ is set for Wednesday, August 14th in the SLC parking lot.  SLC members will welcome, accommodate, feed, host & care for our neighborhood guests.
QR Code - Take this post Mobile!
Use this unique QR (Quick Response) code with your smart device. The code will save the url of this webpage to the device for mobile sharing and storage.